Unlike many other gadgets in modern kitchens, Knives are essential. Even though there is no perfect knife—it needs to fit the cook's hand with the right weight, balance, and grip—every home chef needs a few standouts. Most of the time, it's better to buy each knife separately, but sometimes it makes more sense to buy a set. You might be starting a new kitchen, replacing a lot of old cutlery at once, or stocking a vacation home.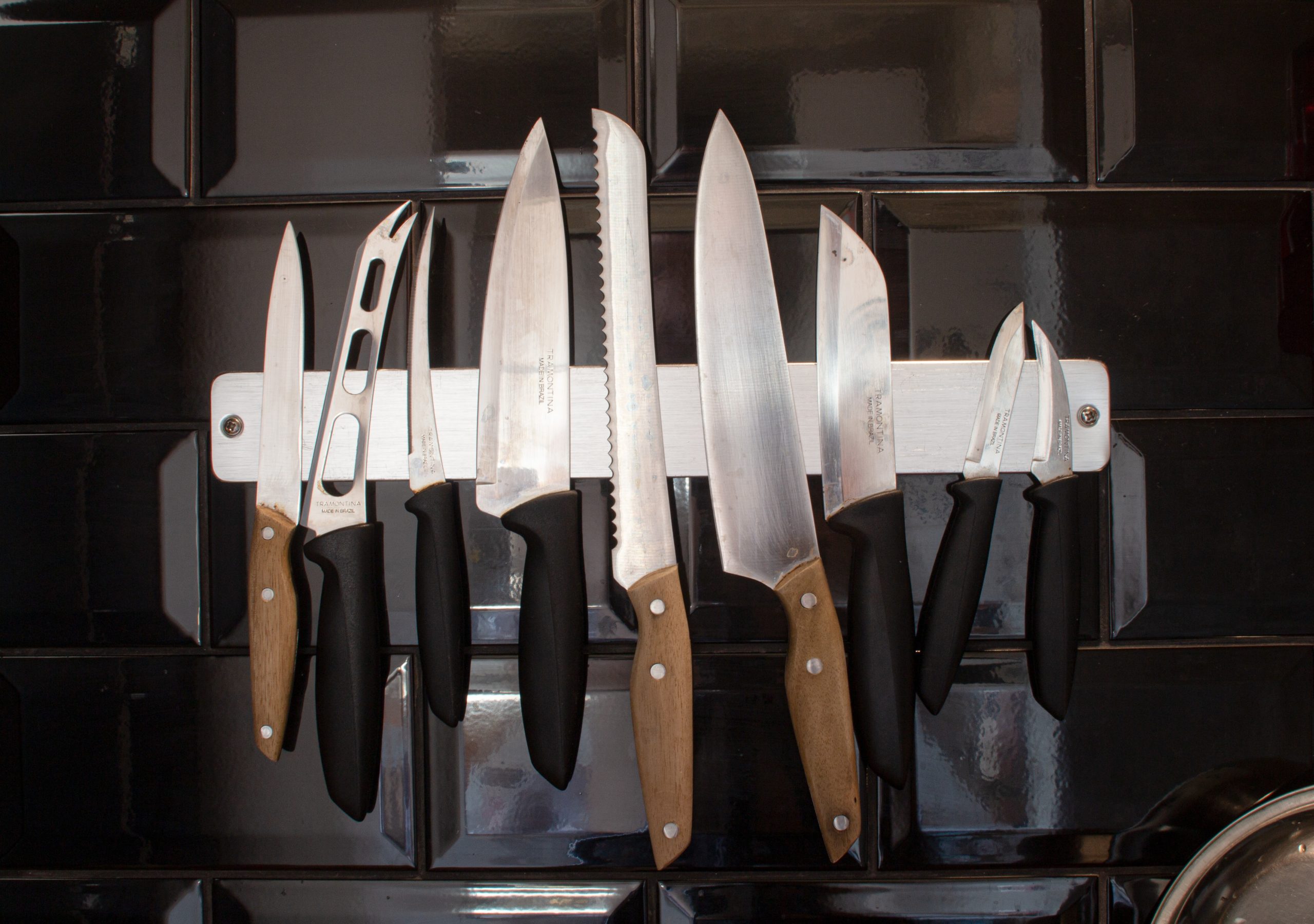 If you already have a lot of knives and are only looking for a santoku knife, it doesn't make sense to buy a set. We're happy that we've covered you on both counts. We researched and tested everything from chef's and paring knives to serrated bread and steak knives so that you can easily slice, dice, and chop with high-quality blades that fit any budget.
The Five Best Knife Sets in 2022
1. Best Steak Knives: Messermeister Avanta 4-Piece Steak Knife Set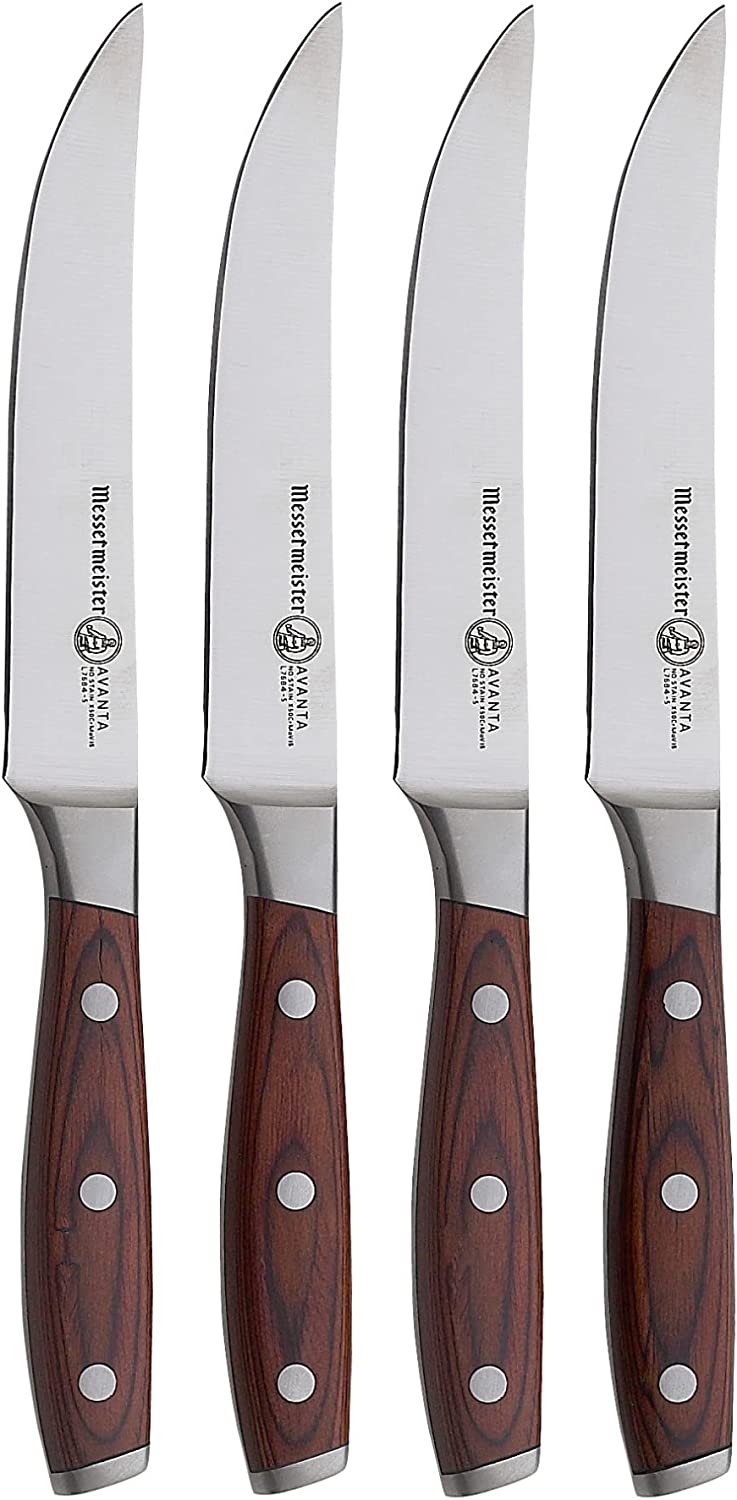 What we Like
Super sharp
Great value
Lifetime warranty
What we don't Like
Handles aren't the smoothest
It doesn't include a case
A set of steak knives that look good and work well is excellent. These have 5-inch blades with a boning tip that curves up and helps separate the meat from the bone, and the long curved blade helps cut through the heart.
They are made of German high-carbon stainless steel, which gives them a sharp edge that stays sharp for a long time and will make them a mainstay in your home for many years. They are made in China, which helps make them an excellent everyday option at a price you can afford. Also, the brand has a lifetime guarantee against problems with how it was made, so if you have any issues, you can get your money back.
Blade Material: Stainless steel | Blade Length: 5 inches | Handle Material: Pakkawood | Weight: 1.6 ounces
2. Best Ceramic Knives: Wacool Ceramic Knife Set 3-Piece

What we Like
Knives come with sheaths
Anti-slip handles
Affordable
What we don't Like
The grip may loosen over time
Many people like ceramic knives better than ones made of stainless steel. Ceramic doesn't rust, and the blades tend to stay sharper for longer. The material is also harder than stainless steel. If you like ceramic, you might like this three-piece set from Wacoal. The chef's knife is 6 inches long, the utility knife is 5 inches long, and the paring knife is 4 inches long. Each has its plastic covering.
You can order a set with black handles or handles in different colours, and the handles are easy to hold and won't slip out of your hands. To avoid chipping, ceramic knives should only be used on wood, plastic, or bamboo cutting boards.
Blade Material: Ceramic | Blade Lengths: 4, 5, and 6 inches | Handle Material: Plastic | Weight: 10.4 ounces total
3. Best Set: Wüsthof Gourmet Three-Piece Paring Knife Set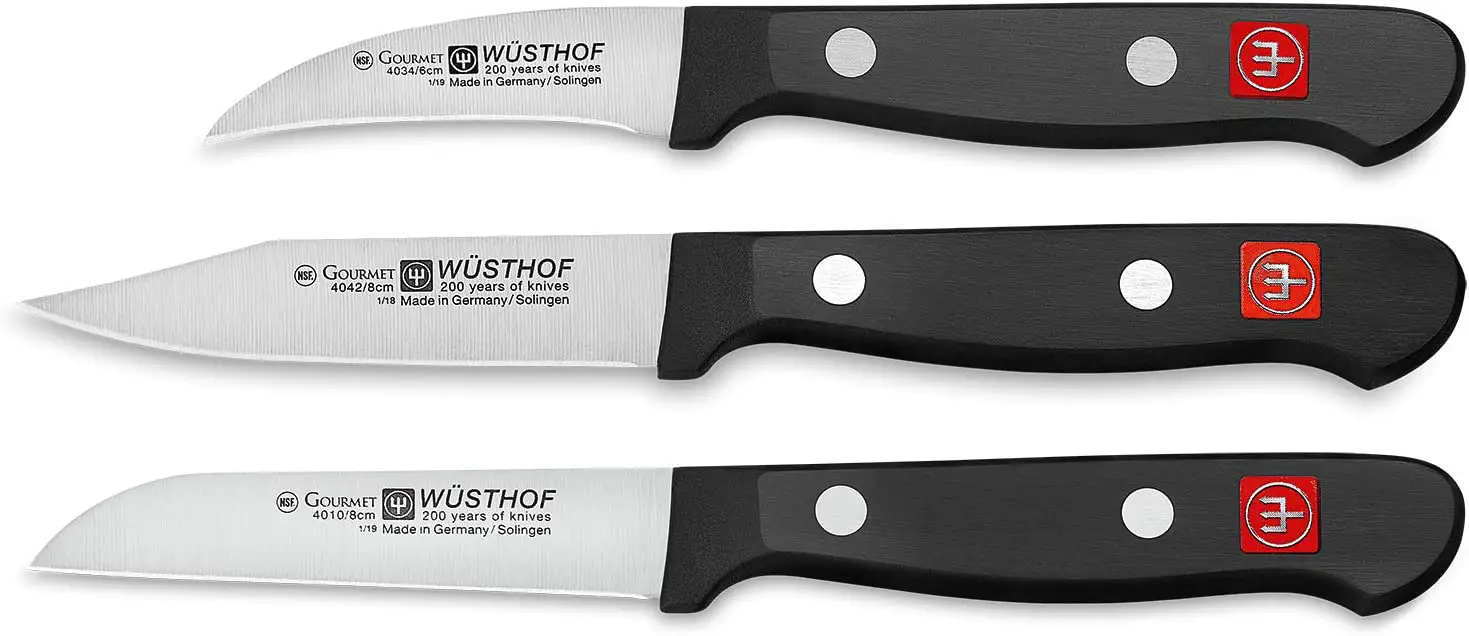 What we Like
Excellent variety of different projects
Full tang stainless steel blades
Limited lifetime warranty
What we don't Like
No protective sheaths or storage case
The slight learning curve with blade styles
This inexpensive set comes with a drop-point paring knife with a 3-inch blade that can be used to cut cheese, a sharp-point paring knife with a 3-inch cutter, and a bird's beak paring knife with a 2.25-inch blade that can be used to peel fruits and vegetables. All three have stamped stainless steel blades with full tangs and composite handles that are held together with rivets. It is best to wash by hand.
Blade Material: High-carbon stainless steel | Handle Material: Polypropylene | Blade Style: Bird's beak, flat, clip point | Tang: Full | Blade Length: 2.25, 3, or 3 inches | Total Length: 7 inches | Weight: 1.6 ounces
4. Best for the Picnic Basket: Kuhn Rikon Straight Paring Knife with Safety Sheath, 4″, Set of 3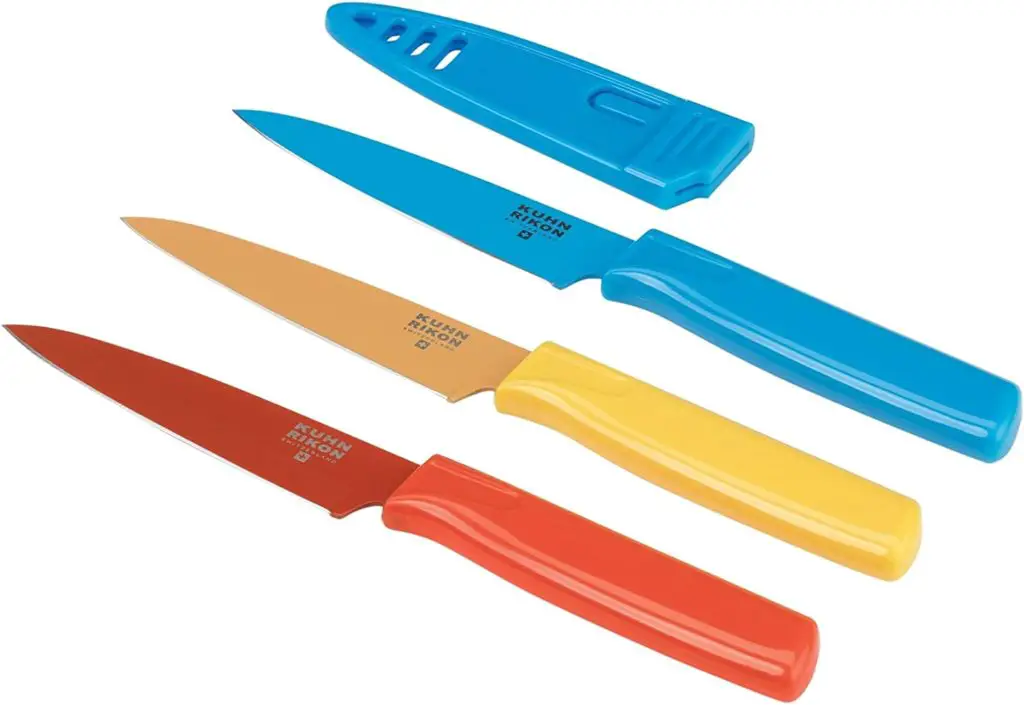 What we Like
Includes blade sheaths
Fun, colourful options
Reliable, inexpensive knife
What we don't Like
The bright finish may wear off with the use
These brightly coloured knives look good in a picnic basket, a kitchen drawer, or an RV. They're cheap enough that losing one won't break the bank, and you get an even better deal when you buy three. They're also sharp enough to make easy work of kitchen tasks. The sturdy sheaths protect the knives when carried or put away. This keeps the blade from getting nicked and keeps your hands poked by accident. The nonstick surface makes cleaning easy, and you can clean them without scrubbing hard. You can also buy one of these knives by itself in a wide range of colours.
Blade Material: Carbon-coated stainless steel | Handle Material: Plastic | Blade Style: Spear point | Tang: Undetermined | Blade Length: 4 inches | Total Length: 11 inches | Weight: 3 ounces
 5.
Victorinox 4-Piece Set of 3.25 Inch Swiss Classic Paring Knives 

A straight edge paring knife can be used for garnishing, mincing, peeling, slicing, and dicing. It has a laser-tested, razor-sharp, tapered knife edge that is ground to an exact angle to hold a sharp edge longer and ensure it cuts and lasts.
The ergonomically designed, contoured Swiss Classic handle is based on our patented Fibrox Pro line and provides a sure grip and easy handling, even when wet.
This paring knife is best for jobs where control is essential and has a short blade for better accuracy and precision.
It's great for detailed tasks like peeling fruits and vegetables or trimming beans, but it can also handle bigger jobs like dicing an onion or slicing mangos.
Expertly made in Switzerland since 1884. Designed for professionals who use knives all day, every day.
What are the Best Knife Brands/Manufacturers?
Wusthof
Wüsthof is a well-known brand whose knives are made in Germany. It has a wide range of high-quality knives that can be bought in sets or separately. There is a range of prices for the blades, from cheap to medium-high, so you should be able to find one that fits your budget.
Shun
Shun is a Japanese brand that makes both Japanese-style and western-style knives. Most of these are more expensive, but some are in the middle of the price range.
Sabatier
Sabatier has a range of good knives at prices that aren't too high. Some of its knife sheaths, which come with some of its blades, can sharpen themselves, which is one of its most interesting new ideas.
Victorinox
You can get cheap knives and knives in the middle price range from the same people who make Swiss Army knives. These are good knives that come in many different styles.
How to Sharpe and Care?
Sharpening
No matter what kind of knives you buy, you must take care of them. For knives without serrations to work well, the cook needs to have and use a sharpening steel, which doesn't sharpen and may not even be made of steel.
The sharpening steel realigns the knife's edge and smooths out minor flaws, so it doesn't drag through the food when you cut it. Professional chefs may use steel every time they use a knife, and home cooks should also make it a habit to use steel whenever they use a knife.
When it's time to sharpen the knife, you can do it at home in some ways, from using a simple sharpening stone to an electric sharpener. Getting the angle of the edge right is the hardest part of sharpening a knife, and using a sharpening stone can take a lot of time and practice to hold the knife at the right angle.
Since electric sharpeners are easy to use, it's easy to use them too much and take too much metal off the blade when it's not needed. But they have guides that help you keep the knife at the right angle, and some have more than one guide to fit knives with different edges. Many manual sharpeners allow you to pull the blade through the sharpening material while keeping the blade at the right angle.
How to Store Knife?
You have a few good choices for putting knives away. Knife blocks are often sold with knife sets, but you can also buy them separately to store utensils that don't match. They are great for holding a variety of knives and may even have spaces for scissors or sharpening steel. The benefit is that you can keep the blades right on your counter, and putting them in their slots ensures you always pick up the right one the first time.
With a magnetic knife rack, you can hang your knives on the wall, so they are easy to reach and don't take up space on the counter. You can see exactly which knife you're picking and keep them in any order that makes sense to you.
Sheaths protect your knife's blade so it can be put away safely in a drawer. You might not want to keep your most-used knives in a drawer, but knives you don't use often can be kept in a sheath. Knife rolls make it easy to pack your knives for a trip and keep them safe when you don't need them. Professional chefs use them to keep their knives close, but they are less useful in a home kitchen.
How to Clean Knife?
Some knives can go in the dishwasher, but many brands and cooks prefer to wash them by hand. Even if the heat and detergent in the dishwasher won't hurt the knife's blade or handle, there are other reasons not to put it in the dishwasher.
First, things can move around in a dishwasher as it cleans. This means that the carefully sharpened knife blade can get nicks, bends, and scratches when it bumps into other things. It will need to be sharpened more often because of this.
Second, if you aren't careful when unloading the dishwasher, you could grab the sharp blade instead of the handle. And lastly, the detergent might not hurt the knife's usefulness, but it can dull or change the way the knife handle looks, making it less appealing.
Why Use a Knife Sharpening Steel?
Two things can be done with sharpening steel: One, it smooths out a knife's rough edge after it has been pointed on a whetstone. Two, it helps bring back the sharpness of your blade after you've been cutting, slicing, or chopping for a while.
You may have seen people on TV moving their knives quickly back and forth on knife steel. Yes, they are just showing off, as you might have guessed. There's no reason to do it so quickly; if you try, you might cut yourself.
The safest way to use knife steel is not with the knife's edge facing you.
Here's How to do it
Hold the sharpening steel point-down on a dry cutting board with your left hand (or right hand if you're left-handed) as if you were about to hammer a large nail into the board.
Hold the knife against the steel with your other hand so that the back of the blade, closest to the handle, touches the steel. Since you'll pull the knife back toward you, most of the edge should be in front of the steel when you start.
Turn the knife, so its cutting edge is at a 2212-degree angle to the shaft of the sharpening steel. Not around a protractor? That's fine. Remember that a right angle is 90 degrees, and 45 degrees is half of that. So half of that is 2212 degrees.
Now, while keeping this angle of 2212 degrees, gently pull the blade toward you while sliding it down the steel's shaft. You want to cover the whole length of the blade while keeping it at that 22 12-degree angles. Imagine trying to cut off a fragile piece of knife steel. Ten times, do this step.
Please switch to the other side of the blade and give it ten more strokes on the steel. You're done!
Tips
Make sure your sharpening steel is as long as the blade. For example, if your chef's knife is 10 inches long, your knife steel should also be at least 10 inches long.
After using the sharpening steel, rinse the blade and carefully wipe it dry with a towel so that any tiny metal filings on the knife's edge don't get into the food you're about to work with.
Keep your knife steel close at hand when you're cooking. A few minutes of regular slicing on a wooden or plastic cutting board can knock your knife's sharp edge out of place. As soon as you get used to how a sharp knife feels, you'll notice the difference immediately. When you do, you don't have to use a whetstone to take more blades off because a few quick strokes on the steel will straighten it right back up.
Conclusion
Even though a paring knife isn't a must-have in the kitchen, it's excellent for making minor, precise cuts and peeling fruits and vegetables. You can also use them to remove the veins from shrimp, and they are fantastic to have in your home bar because you can use them to cut small wedges and citrus peel for cocktails.