Is it difficult for your family to eat 'leftovers'? This was a problem in our house for years. Even though I'm sure it was all in our imaginations, leftovers didn't seem to taste as wonderful. Perhaps it even tasted a little stale.
Thankfully, we've overcome this problem and now consume all the leftovers. However, I frequently attempt to reuse leftovers for something fresh, and sloppy Joe's is a big one that I do this with. Because, as much as I enjoy this dish, I'm not a big lover of eating leftovers for days.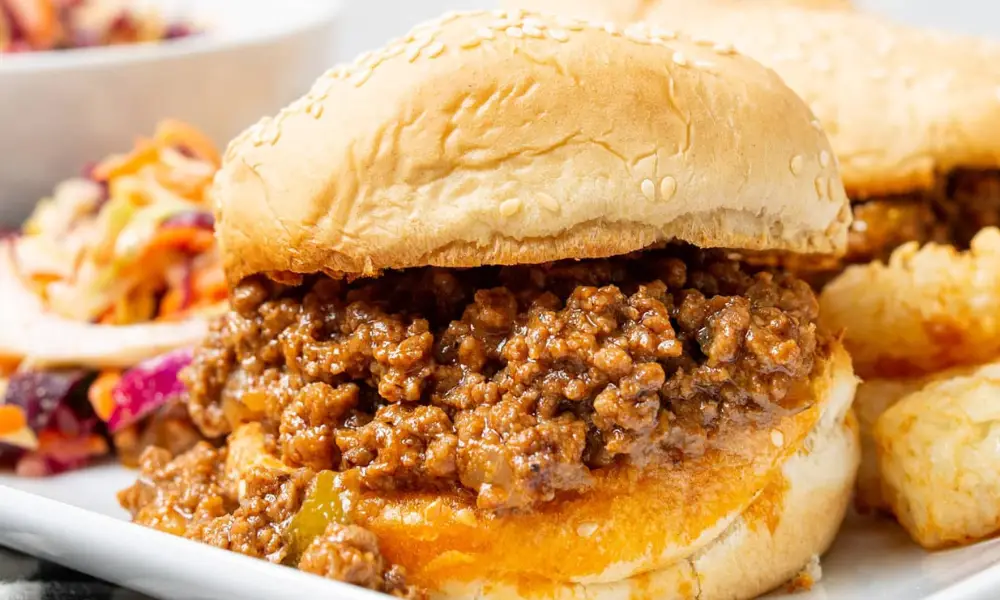 Recipes with Leftover Sloppy Joes
Hot Dogs with Chili
If you're lucky enough to live in central Pennsylvania's tri-state area, you've probably tried a Sheetz hot dog. If you're unfamiliar with Sheetz, it's a family-owned gas station company with a menu that rivals most fast food places. The menu began with chili dogs, among the greatest I've ever had.
Every other chili dog I've ever eaten has been made with canned chili. Even if they make it from scratch, they use whatever blasted ingredient is to make canned chili taste like it, and Sheetz is not one of them.
Their recipe is akin to Texas-style chili, and you can create a similar result at home by slathering sloppy joe on your dogs if you process the ground sausage after it's been cooked, but before adding the sauce, you'll get bonus points. You'll get a great Coney-style texture as a result of this.
Bell Peppers with Stuffing
Make sloppy joes for yourself on Monday, then offer leftovers to your girlfriend on Tuesday by mixing leftover joe with rice and cheddar, stuffing it into peppers, and baking it.
Garlic Bread with Sloppy Joes on Top
Instead of Wheat Thins, provide something that will blow your guests' minds. Warm French toast with butter and garlic then spread sloppy joe on top. It's akin to wiping up the leftover sauce from your spaghetti dinner, which is perhaps the finest part of any pasta dish, thanks to the garlic and French bread.
Shepard's Pie (Shepard's Pie)
In a casserole dish, combine vegetables with some sloppy joe and top with mashed potatoes. Preheat the oven to 350°F.
Fries with Chili
Make the finest chili fries you've ever eaten by purchasing frozen seasoned curlies from the grocery store. Top the fries with sloppy joe, onion, and shredded cheese after they've been baked.
Spaghetti in the Cincinnati Style
All of you, Ohioans, may God bless you. If you're unfamiliar with Ohio, chili is a popular dish there, and even restaurants are dedicated to it. Have you ever visited a Skyline? Cincinnati-style spaghetti consists of noodles topped with chili. Sloppy joes are a tasty alternative to chili and conventional marinara sauce. It's even more logical now that the Italian sausage exchange has been added.
Nachos Supreme
Refried beans, sloppy joe, onions, corn, black olives, sour cream, and shredded cheese go on top of your favorite tortilla chips. Boom, You've never had better ultimate nachos.
Potatoes Baked
So, maybe you're a little healthier than I am and don't care for curly French fries. Sloppy joe, shredded cheese, and chives go on top of baked potatoes, and it's a complete dinner in and of itself, man.
Macaroni and Cheese
After a night out with pals, what could be better than a late-night snack? Macaroni with cheese. What could be a better late-night snack? Macaroni and cheese with a spicy Italian sloppy joe sauce.
Sloppy Tacos: How to Make them?
These sloppy joe tacos will have dinner on the table in no time!
Preparation of the ground beef mixture
Fill taco shells with meat and arrange them in a baking tray.
Bake with grated cheese on top.
Hints and tips
This recipe is simple to prepare for a quick after-dinner meal. Make the filling ahead of time and store it in the fridge until ready to use. Just before baking, stuff the taco shells.
Leftover taco meat will keep for up to four months in the freezer or four days in the refrigerator.
Taco shells that haven't been eaten will lose their crunch in the refrigerator, and the microwave will worsen it. Place tacos in a 350°F oven for 10 minutes to reheat.
How to Keep Sloppy Joe's Recipes Cheap?
Here are some of the methods I employ to make this recipe more cost-effective:
Make a cost comparison. When there isn't a spectacular offer elsewhere, I know Costco is the best place to buy bulk goods like ground beef and tomato products. I keep track of prices, so I can see who is offering the best deal where.
When ingredients are on sale, buy a lot of them. FOR EXAMPLE, when I spot a good deal on ground beef at the grocery store, I stock up.
Cook in large quantities. Making more than one meal at a time and freezing the leftovers saves a lot of time and money, and it also allows me to avoid expensive convenience foods or take-out when I don't feel like cooking. This is an excellent bulk recipe.
Combine higher-priced items with lower-priced alternatives. It might be quite costly if you don't find ground beef on sale, and you can stretch it or replace it with ground turkey to save money.
How to Keep Sloppy Joe Safe and Ready for a Party?
According to the government, food poisoning sends 128,000 Americans to the hospital each year. Follow a few simple ideas to keep the good vibes going and ensure your party is remembered for all the right reasons.
Keep cold foods cold: Pasta salad, potato salad, and fruit salad should be below 40°F. Fill a large dish halfway with ice, cover it with a linen or towel, then nestle a smaller bowl filled with your favorite picnic salad into the ice. It should be small enough to allow the ice to cover the salad bowl's walls.
How do you Create Homemade Sloppy Joe Sauce?
Making your sauce from scratch can be frightening, especially if you've previously relied on the store-bought sauce. However, making your sauce at home is relatively easy, and the best part is that you can make it with items you likely already have in your kitchen.
A few fresh veggies, such as onions, garlic, and green pepper, are combined with various seasonings to make sloppy joe sauce. Chili sauce, tomato sauce, ketchup, brown sugar, Worcestershire sauce, and lemon juice will be added.
To Prepare Sloppy Joes, How Many Pounds of Meat is Required?
The amount of meat you'll need for your sandwiches will be determined by how many people you'll serve. My dish serves six people with one and a half pounds of ground beef. If you're serving a large group or want to prepare extra, double the recipe to ensure you have enough sauce to cover the excess meat.
It's just as quick to double, triple, or quadruple the recipe, and you'll have plenty of leftovers in the freezer.
Is it Possible to Freeze Sloppy Joes?
Yes, of course! This simple dish freezes beautifully. Brown, the ground beef, add the sauce, set aside to cool, and then transfer to a freezer bag. Before you put your bag in the freezer, remember to mark it, so you know what's inside! Allow the meat to freeze and flatten the bag for convenient storage in your freezer. The meat from a sloppy joe can be frozen for up to six months.
Remove your meat from the freezer and place it in the refrigerator to thaw for at least 24 hours before reheating. You can reheat the beef on the stovetop or in the slow cooker after it has thawed.
If you have leftover sloppy joes after reheating them, keep them in an airtight container in the refrigerator for up to four days.
For variations, try this Instant Pot Turkey Sloppy Joes, this Taco Sloppy Joes, or this Tater Tot Sloppy Joes Casserole.
Sloppy Joe Meat: How to Serve it?
You might be wondering what to do with your sloppy joe meat once you've prepared it. You may use your meat in various ways, providing you with various meal alternatives. That means you can freeze a few batches and reheat them to make a different supper each time!
On a bun, of course. A bun is a usual way to eat a sloppy joe. Use a conventional hamburger bread or your favorite gluten-free bun to keep this recipe gluten-free. To protect the bread from becoming soggy, toast the bun before adding the meat.
It's all about the fries. To enjoy a messy dinner, the kids will adore, bake some crispy French fries and cover them with sloppy joe meat and shredded cheese.
On nachos, of course. Spread the sloppy joe meat over the top of tortilla chips to make sloppy joe nachos. Serve the chips as a snack or appetizer by smothering them in cheese.
In a cooked potato, to be precise. Make a quick and hearty dinner by stuffing a baked potato with your meat. Cut a slit in the potato after it has been baked as usual. To loosen the filling, add some butter to the potato. Then add cooked sloppy joe meat and cheese to your potato.
Is the Sloppy Joe's Recipe can be Made in an Instant Pot?
Yes! Set the Instant Pot to saute mode and follow the instructions below. When it's time to simmer the sauce, pour in 12 cups of water, lock the Instant Pot cover, ensure the venting valve is closed, and cook for 5 minutes on high pressure.
Allow the pressure to naturally dissipate for 5 minutes after the cooking time has expired, then carefully turn the venting valve to remove the residual pressure.
Remove the cover and stir when the pressure pin drops. If the sauce is too thin, go to saute mode and let it boil until it thickens to your preference.
How do you Serve Sloppy Joes?
The classic sloppy joe sandwich is usually a favorite in my house, and it's a crowd-pleaser when I bring it to potlucks! Browned ground beef, green bell peppers, and onions in a hearty tomato sauce never fail to satisfy!
Although most sloppy joe recipes call for beef, pork can also be used. My mother told me about her childhood memories of sloppy joes, which reminded me that my wonderful Grandma Janet occasionally overcooked a roast beef (gasp!). When she did, she ground up the tough, well-done roast beef meat and used it in her sloppy joes.
Conclusion
A sloppy joe is a hamburger bun-based sandwich with ground beef, onions, tomato sauce or ketchup, Worcestershire sauce, and other seasonings. The dish was created in the early twentieth century in the United States.
Sloppy joe recipes abound in early and mid-twentieth-century American cookbooks. However, they go by many names: Chopped Meat Sandwiches, Spanish Hamburgers, Hamburg a la Creole, Beef Mironton, and Minced Beef Spanish Style.