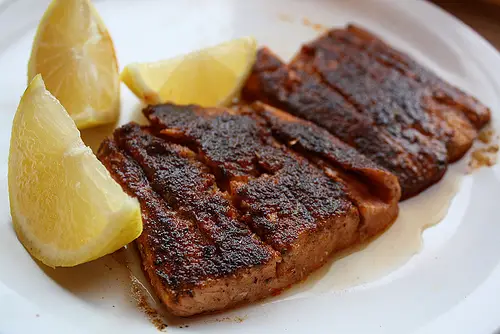 For those of you who can't eat meat on Friday. Between now and Easter here is a great recipe. Blackened Salmon at its finest. It is quick to prepare and tastes great.
2 Tablespoon ground paprika
1 Tablespoon onion powder
1 Tablespoon cayenne pepper
2 Teaspoon salt
½ Teaspoon ground white pepper
½ Teaspoon ground black pepper
¼ Teaspoon dried thyme
¼ Teaspoon dried basil
¼ Teaspoon dried oregano
½ cup butter-melted
2 lbs of Salmon fillets
Mix all the spices together into a bowl. (
ground paprika, onion powder, cayenne pepper, salt, white pepper, black pepper, thyme, basil, oregano)
Coat the salmon fillets on both sides with ¼ cup butter. Then sprinkle them over evenly with the spice mixture. Drizzle one side of each fillet with ½ half the remaining butter.
Using a skillet over high heat, cook the salmon fillets butter side down until blackened. 2 to 5 minutes. Turn the fillets and drizzle with the left over butter. Continue cooking until blackened and the salmon flakes easily with a fork.