It's easier to create Eggs Benedict than you think, especially if you make the hollandaise sauce in a blender! This recipe is ideal for any celebration, and remember to plan ahead of time! Making eggs, Benedict takes a lot of planning. Warm, crispy bacon, buttered toasted English muffins, precisely poached eggs, and a warm, creamy, unbroken hollandaise sauce must all be served at the exact moment.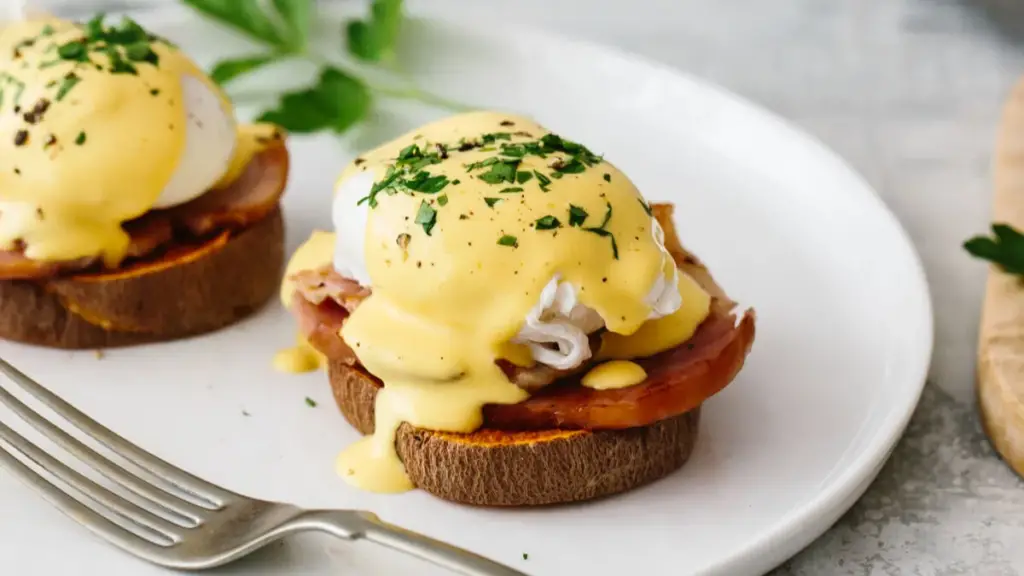 The traditional American breakfast and brunch dish Eggs Benedict originated in New York City. An English muffin is toasted and sliced in half, then topped with Canadian bacon, poached eggs, and classic French Hollandaise sauce. It's decadent, filling, and filling.
What is Egg Benedict?
Eggs Benedict is a breakfast or brunch dish in the United States that consists of two halves of an English muffin topped with Canadian bacon, a poached egg, and hollandaise sauce. It became well-known in New York City. The dish is thought to have originated in late-nineteenth-century New York City. However, theories dispute how and where. Delmonico's Restaurant, commonly recognized as the country's first fine-dining restaurant, is one of the most prevalent assertions (1837).
A frequent diner, Mrs. (or Mr.) LeGrand Benedict (or Benedick), reportedly found nothing she liked on the menu in the 1890s—though some sources say the 1860s—and asked chef Charles Ranhofer to make something for her. Eggs Benedict was the end outcome. Mr. Lemuel Benedict, according to another story, ordered the first eggs Benedict in 1894 at the Waldorf Hotel (now the Waldorf-Astoria), but with toast and bacon rather than an English muffin and ham. In any event, the cooks at each Restaurant continued to offer the meal after that, and it has since become a popular breakfast item in the United States and worldwide.
The Story of Lemuel Benedict
This legendary dish is credited to Lemuel Benedict in another tale published in the weekly New Yorker Magazine on December 19, 1942.
Lemuel Benedict, a hungover Wall Street broker, ordered lunch at the Waldorf Hotel in New York in 1894. Buttered toast, crisp bacon, two poached eggs, and hollandaise sauce were on his menu. Oscar Tschirky, the legendary Waldorf chef, was blown away by this order. He customized the recipe by substituting Canadian bacon for crisp bacon and a toasted English muffin for toasted bread, and he added it to his breakfast and lunch menu. If you're tired of the same old breakfast, this delectable dish is a game-changer that you can enjoy at any time. The creamy hollandaise sauce is the dish's secret ingredient. Ordering fresh Classic Eggs online from Licious is the first step in producing this delicacy.
How to Make Eggs Benedict Recipe?
Here is the best eggs benedicts recipe:
Ingredients
For the Hollandaise
¾

cup (1½ sticks) of unsalted butter

3

large egg yolks

1½

teaspoons fresh lemon juice, plus more to taste

¼

teaspoon cayenne or hot paprika, plus more to taste
Kosher salt and freshly ground pepper
For the Poached Eggs
1

tablespoon white distilled vinegar
Kosher salt

8

large eggs
For the Benedict and Assembly
4

English muffins, split

8

slices Canadian bacon or thick-cut ham (or eight slices of regular, thick-cut bacon)

2

tablespoons unsalted butter

¼

cup chopped chives

2

tablespoons chopped dill, tarragon, or parsley
Flaky sea salt
Coarsely ground black pepper
Preparation
Here are the steps to follow:
What Should Things be Remembered While Making It?
Here are some essential points that should be remembered while making egg benedict:
Use room-temperature eggs – pouring melted butter straight onto cold egg yolks may cause it to solidify, and your Hollandaise will either split or become lumpy.
Allow the melted butter to cool slightly before adding to the rest of the ingredients to avoid 'cooking' the egg yolks.
Serve Immediately – Hollandaise sauce is best served just above room temperature – it should be slightly warm and not hot. It is possible to reheat the sauce if it has been refrigerated, but it is temperamental and easily split. When making this dish, I prepare the sauce last to pour it straight over the poached eggs.
To reheat Quick Hollandaise – place the bowl or jug containing the Hollandaise sauce into a giant bowl of warm (not boiling) water and whisk until it is the desired temperature and consistency.
Make sure your eggs are fresh and free-range.
Use FRESH lemon juice, not from a bottle.
For best results, use a hand or immersion blender.
Make the Hollandaise in a jug or jar that is wide enough to fit the head of your immersion blender – this technique won't work as well if you use a wide bowl.
Is Eggs Benedict Healthy?
The nutritional value of Eggs Benedict is questioned primarily because of the hollandaise sauce calories, which are over 80
calories
per tablespoon and contain almost 9 grams of fat (5 of them saturated). There are approximately four tablespoons of hollandaise sauce in a standard serving of Eggs Benedict with one English muffin and two eggs. In the sauce alone, there are 320 calories and 36 grams of fat (20 of which are saturated). Add another 10 grams of fat for two eggs, and you've got yourself an extremely fatty
dinner
. Eggs Benedict is 728 calories, including one English muffin (264 calories), four tablespoons of Hollandaise, and two eggs.
According to the Dietary Guidelines for Americans, fat should account for 20 to 30 percent of daily calories, with saturated fat accounting for 10 percent or less. A 2,000-calorie-per-day diet translates to between 400 and 700 calories from fat, with no more than 200 calories from saturated fat.
According to the American Heart Association, it's also important to remember that saturated fat should account for no more than 120 calories in a 2,000-calorie diet, approximately 13 grams. As you can see, Eggs Benedict contains much too much-saturated fat to be called a healthy
breakfast
option.
Conclusion
There are multiple layers of ingredients in Eggs Benedict. The first is English muffins, which you can buy in the shop or bake yourself. If you're buying muffins, look for ones that are high in fiber and low in carbohydrates. Poached eggs are used in this meal.
Bacon is commonly used in eggs Benedict; however, ham can be substituted. When buying bacon, go for the uncured variety. It's lower in calories, fat, and sodium, making it considerably better for your health. The dish's last component is hollandaise sauce, which can be bought or created using eggs, lemon juice, and a little butter. Benedict, learn how to prepare eggs by poaching the egg, frying the bacon, and preparing your Hollandaise sauce if you don't use store-bought.