Quesadilla Explosion Salad is Chili's most popular salad. Grilled chicken with cheese, tomatoes, corn relish, tortilla strips, and quesadillas are all included, and ranch Chipotle, citrus-balsamic dressing, and cheese quesadilla slices are served on the side. This salad has been labeled as one of the healthiest salads. If you omit the Ranch Chipotle dressing, make the quesadillas with whole wheat tortillas and low-fat cheese, and bake the tortilla strips instead of frying them, you may make it a healthier salad.
A homemade orange vinaigrette is tossed with chopped romaine, bell pepper, green onion, skillet-toasted fresh Summer corn, tomato, and cilantro. Crushed tortilla chips, basically grilled chicken, and the crowning glory—ooey-gooey pepper jack quesadillas—complement the salad. It's pretty extraordinary, and it's also relatively simple to put together, and you'll enjoy it much.
Quesadilla Explosion Salad Nutrition Facts
What is Exactly Quesadilla?
In Mexican Spanish, the word "quesadilla" roughly translates to "small cheesy pastry," which is reasonably accurate, but instead of actual pastry, a corn or flour tortilla is typically used — flour in northern Mexico, maize in the rest of the country. In certain variations, the quesadilla is created with a raw tortilla whose sides are squeezed together around the contents before cooking, giving it a turnover-like appearance.
Quesadillas, like burritos, enchiladas, tacos, taquitos, and tamales, have become a mainstay of Tex-Mex cuisine, thanks to their simplicity and affordability, as well as their flexibility. Quesadillas provide practically endless choices, ranging from entirely vegetarian variants to meaty, fusion-inspired masterpieces. Fill it with anything from chicken to buffalo, serve it with or without beans, and don't forget the cheese.
Regardless of all the changes, every quesadilla begins off the same way. Preheat a grill or a large skillet to fit a tortilla (ideally nonstick for easy release). Cook the ingredients, then set them aside, clean the pan or grill, lightly oil the surface, and top with a tortilla. Heat it briefly, then cover one half of the tortilla with cheeses and other contents before folding the other half over. With a spatula, press it down, so the cheese attaches to the tortilla. Flip the quesadilla carefully and lightly brown the other side. Use two tortillas instead, spreading the cheese and other contents over the entire bottom layer, then topping it with another and continuing as before; this is known in Mexico as a sincronizada.
How to Make Quesadilla Explosion Salad?
This isn't your typical greens dish, folks. It includes cheesy quesadilla triangles, fajita chicken strips, and more.
Ingredients
1 La Tortilla Factory Whole Wheat Low-Carb/Low-Fat Tortilla (sometimes labeled Smart & Delicious Low Carb High Fiber), Original/Soft Taco size (NOT Large)
1/4 cup shredded fat-free cheddar cheese
3 cups chopped romaine lettuce
3 ounce cooked boneless skinless lean chicken breast, cut into strips
1/4 cup diced tomatoes
Two tablespoons of canned sweet corn kernels, drained
One tablespoon of canned black beans, rinsed
One teaspoon. fajita seasoning mix, dry
Optional: fresh cilantro
Dressing
Three tablespoons of fat-free balsamic vinaigrette
One teaspoon of lemon juice
One teaspoon of lime juice
1/2 no-calorie sweetener packet (like Splenda)
Steps to Follow
Here are the steps that you have to follow:
Begin by mixing the fajita seasoning mix and two teaspoons of water. Toss the chicken in this mixture, and set aside.
To make the quesadilla, place the tortilla in a pan sprayed lightly with nonstick spray. Sprinkle cheese evenly over one half of the tortilla, and then bring the pan to medium heat. Once the cheese begins to melt, use a spatula to fold the plain half of the tortilla over the cheese-topped half, and then press down with the spatula to seal. Flip the quesadilla and continue to cook and press until the entire quesadilla is hot and toasty. Set aside.
Build your salad by layering the lettuce, tomatoes, corn, and black beans. Top with the chicken (heating it first, if you like). Cut the quesadilla into triangles, and place them around your salad.
Then combine all dressing ingredients with one teaspoon of water, mix well, and serve on the side.
What Goes Good Inside a Quesadilla Salad?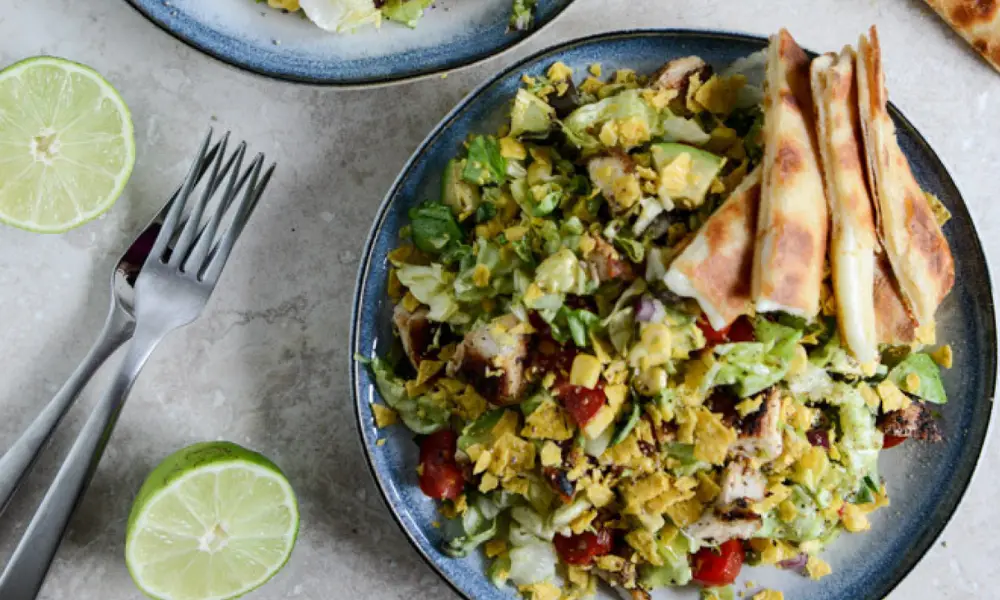 What should you put in a quesadilla salad? A cheese quesadilla is a quick and easy snack that comes ready in minutes and only requires two ingredients. A chicken quesadilla or a shrimp quesadilla is terrific, more satisfying options to add some protein. Make an entire veggie quesadilla with onions, tomatoes, peppers, and mushrooms for a plant-based variation.
If you're feeling adventurous, go beyond the basics with one of these easy and tasty options:
Southwestern: Fill your quesadilla with black beans, chopped onions, peppers, tomatoes, corn, cilantro, and pepper jack cheese. Sprinkle with your favorite spices, like garlic powder, chili powder, cumin, and red pepper flakes, and top with a spoonful of Greek yogurt or sour cream.
Mediterranean: Load your quesadilla up with a blend of chopped spinach, red onions, Kalamata olives, feta cheese crumbles, and mozzarella cheese. For the perfect complement, serve it with a side of hummus.
Caprese: Take the familiar Caprese salad to a clever new level by layering the fresh mozzarella cheese, tomatoes, and basil inside a tortilla. Top your quesadilla with a drizzle of balsamic vinegar for a quick Italian fix.
Fillings for quesadillas can be created ahead of time and frozen in freezer bags. For a future supper, combine cooked shredded chicken, shredded cheese, black beans, chopped onions, and your desired spices in a freezer bag. Scoop the mixture into your tortilla, cook in a skillet, and serve.
What is the Difference Between a Tortilla and a Quesadilla?
The difference between quesadilla and tortilla is that quesadilla is a Mexican dish made by filling a tortilla (corn or flour) with cheese, folding it in half, and toasting until the cheese is melted. Additional ingredients, such as meats (chicken or beef, commonly), or vegetables, can be added, often served with salsa, guacamole, and sour cream. At the same time, a  tortilla is (Mexico) a flat round bread made out of cornmeal or flour in Mexican cuisine. They are often served with a filling or topping such as frijoles" "beans," "Carne" "meat," "salsa "sauce," sour cream, and cheese, in which case they are called quesadillas.
Conclusion
Salad with quesadilla explosion is quick and healthful. Chicken breast, shredded cheese, tomatoes, house-made corn and black bean salsa, tortilla strips, ancho-chile ranch sauce, citrus-balsamic dressing, and a three-cheese quesadilla top it off in this salad.
The salad (which is a bit of a misnomer given that it's just a quesadilla) is loaded with sodium and fat. Worse, it contains traces of trans fat, which was just outlawed.