Nothing beats a big pancake supper for some individuals first thing in the morning. This high-carbohydrate breakfast can give you enough energy to get you through a whole day of exercise. Are pancakes, on the other hand, healthy? Not all of the time. However, if you want a fluffy stack of pancakes to start your day, there are techniques to improve pancake nutrition while lowering calorie and carb counts so that you may include them in a well-balanced diet.
Pancake Nutrition Facts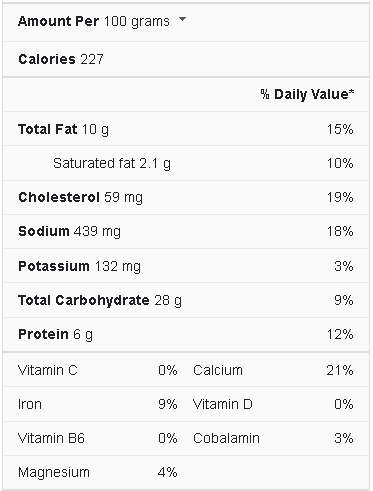 What are Pancakes?
A pancake (or hot cake, griddlecake, or flapjack) is a flat cake made from a starch-based batter containing eggs, milk, and butter and baked on a heated surface such as a griddle frying pan, frequently with oil or butter. It's batter-based bread.
According to archaeological data, pancakes were the first and most widely consumed cereal food in prehistoric communities. The shape and structure of the pancake differ from country to country.
Pancakes in the United Kingdom are frequently unleavened and resemble crêpes. A leavening agent (usually baking powder) is used in North America to make a thick, fluffy pancake. A crêpe is a tiny Breton pancake with a lacelike network of fine bubbles fried on one or both sides in a specific pan or crepe machine.
Are Pancakes Healthy?
Here are the health benefits of pancakes:
Carbs for Energy
It's no secret that a plate of pancakes contains a lot of carbohydrates. Isn't that why we adore them? Pancakes are also an excellent energy source because carbs are your body's primary fuel source. A serving of buttermilk pancakes (approximately 200 calories) has 38 grams of total carbs, compared to 30 grams in a serving of whole-wheat pancakes. Whole-wheat pancakes are the superior choice. You'll still receive plenty of carbs to fuel your busy lifestyle, but the whole-wheat pancakes also provide fiber, which helps to balance your blood sugar and keep you feeling energized afterward.
A Source of Iron
Are pancakes an excellent way to get some iron? Yes, it is correct! Whole-wheat pancakes have roughly 3 milligrams of iron, which is between 16 and 38 percent of the iron you need to ingest daily, depending on your age and sex, whereas buttermilk pancakes contain almost 2 milligrams. Iron, like carbs, contributes to the energetic effects of pancakes by helping to oxygenate your tissues, allowing them to produce the fuel they require. Because iron is required to operate specific immune cells, consuming enough of it in your diet can aid in disease prevention.
Calcium for Strong Bones
Pancakes are a surprisingly good source of calcium, even if you don't think of them as a bone-building diet. Whole-wheat pancakes provide about 250 milligrams of calcium per serving, which is roughly one-quarter of your daily calcium need. In contrast, buttermilk pancakes have around 180 milligrams or 18 percent of your daily requirements. Calcium helps your nerves and muscles operate correctly, and it may also help control your blood pressure, according to the Linus Pauling Institute, in addition to its apparent bone-friendly effects.
Sugar
Sugar is something to be cautious about; a tablespoon of sugar on your pancakes provides 50 calories and 13g of sugar (approximately 4% of your daily consumption). While this may not seem like a lot, it may rapidly become overkill if you go overboard with your sugar spoonfuls. Obesity, heart disease, and diabetes are linked to too much sugar in your diet. You can add sugar to your pancakes, but only a little at a time. This includes maple syrup, which has 52 calories and 12 grams of sugar per tablespoon (4 percent of daily intake)
King Arthur, Gluten-Free Classic Pancake Mix

Features:
Finally, a gluten-free pancake mix that's simple to prepare and tastes delicious. Keep your pantry stocked with our gluten-free mix – a weekend breakfast essential. Enjoy tender, fluffy pancakes (or waffles) at a moment's notice.

This 15 oz pancake mix makes sixteen 4″ pancakes and includes directions to make waffles and a half batch of pancakes. Each serving includes 21g of whole grains. We love our pancakes plain or dressed up with fresh fruit or chocolate chips.

King Arthur Gluten-Free Pancake Mix is Non-GMO Project Verified. Certified Gluten-Free by The GFCO, a program of the Gluten Intolerance Group (GIG); Certified Kosher (instructions included to make the mix non-dairy)

Founded in 1790, King Arthur is a 100% Employee-Owned Company, a founding B Corporation, and the nation's premier baking resource, offering everything from top-quality baking products to inspiring recipes.

We are King Arthur Baking Company. Our name and logo reflect who we've always been and always will be: bakers who are committed to spreading the simple joy of baking.
Which is a Healthier Breakfast: Pancakes or Eggs?
Pancakes or eggs can be a healthy option when cooking at home (more on that below). So let's take a look at the health benefits and drawbacks of pancakes and eggs, and then I'll give you my take on the pancakes vs. eggs debate.
Pancakes
White flour, which is low in fiber and thus less filling, make traditional pancakes. Pancakes are also low in protein, another nutrient that helps you feel filled for longer. Add in maple syrup—or, worse, a maple syrup knock-off!—which adds extra sugar (i.e., empty calories) to your meal, and you've got yourself a breakfast that's great but won't last you through the morning.
Eggs
Saturated fat (2 grams per egg or 9% of the daily recommended limit on a 2,000-calorie diet) and cholesterol are present in eggs (185 mg per egg; the recommended daily limit is 300 mg). You'll receive even more saturated fat and cholesterol from those eggs if you eat them scrambled and fried in butter.
Conclusion
Pancakes will increase your daily carbohydrate consumption. Carbohydrates are an essential nutrient because they are the primary fuel source for your body. However, most dietitians recommend getting your daily carbs from nutrient-dense foods. Pancakes aren't frequently included in this category. Enriched flour is commonly used in pancakes and pancake mixes. Nutrients have been added to enriched foods throughout the production process. In most situations, nutrients (such as vitamins and minerals) are stripped out and then reintroduced back in during processing.