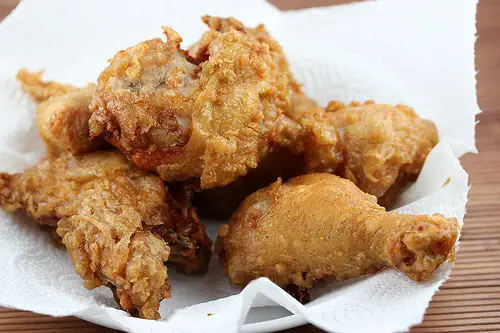 I am always looking for good fried chicken recipes, especially ones that use the deep fryer. This Batter Fried Chicken Recipe caught my eye because there was very little brine time involved-I needed something for supper I could get started right away. It seems like every time I deep fry chicken I have to be real careful so they don't get over browned before they are fully cooked. I think this is because most of the recipes use milk as one of the batter and brine ingredients. Anyway; this recipe was perfect, every piece of chicken was golden brown and done to perfection with a crisp and delicious coating.
If you like deep fried chicken give this Batter Fried Chicken Recipe a try; you'll love it.
Ingredients
For Brine
1 cut up chicken (about 4 pounds with breasts cut in half crosswise)
1/4 cup sugar
1/4 cup salt
Batter ingredients
1 cup all-purpose flour
1 cup cornstarch
5 teaspoons black pepper
2 teaspoons baking powder
1 teaspoon salt
1 teaspoon paprika
1/2 teaspoon cayenne pepper
1 3/4 cups cold water
Vegetable oil for deep frying
Directions
1. In a large container mix the ingredients together for the brine. Submerge the chicken in the brine and marinate refrigerated for at least one half hour. I started to make the batter, and heating the oil while the chicken was brining, and it worked out time wise about right.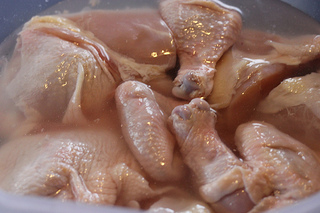 2. In a large bowl whisk together the flour, cornstarch, baking powder, salt, paprika, black pepper, and cayenne pepper and then mix in the water until smooth. Refrigerate until ready to use.
3. Preheat deep fryer to 340F. drain the chicken and pat dry with paper toweling. Dip chicken in the batter using tongs, letting any excess batter drip off before placing the chicken in the deep fryer. Deep fryer should maintain a temperature of around 325 degrees.
4. Cook chicken until golden brown and an internal temperature is reached of 165F. for the breast meat and 175F. for the dark meat.
Drain on paper toweling and serve hot