A perfectly fried, crunchy, slightly sweet corn dog is irresistible. Fortunately, making them at home is very simple. Just as a good corn dog should be, the batter cooks quickly and is crispy. These will bring back childhood memories of the neighborhood fair for you. To make the most tastiest corn dogs ever, keep reading for advice. Before covering the hot dogs with corn dog batter, this step is advantageous. The coating will become thicker as it sets, helping to protect the hot dog as completely as possible.
Making corn dogs is pretty simple. The party guests are going to go crazy over these corn dogs. The buttermilk-infused batter, which has the consistency of cornbread but is made lighter and tastier, properly smothers the hot dog. It is perfectly tender inside and has a pleasant crunch outside—just as a corn dog should. Nothing compares to a hot corn dog that has just been taken out of the fryer. Add your preferred condiments, and have a party in your mouth.
Corn Dog Nutrition Facts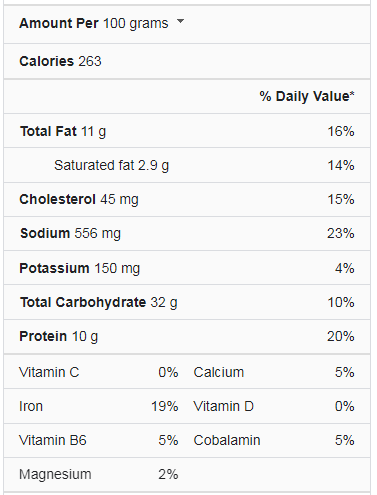 What is Exactly Corn Dog?
Prevalent in America, corn dogs are frequently referred to as street cuisine or carnival fare. It is a sausage (also known as a dog) made of red or white meat battered in cornmeal and deep-fried on a stick. During American street festivities, this meal is frequently devoured.
This dish is tasty and lip-smacking due to the fried cornmeal batter on the outside and the soft and delicate sausage inside. It is typically served with mustard and ketchup on a stick. But occasionally, street sellers may perform this on a hot dog bun to invent a new kind of hot dog. However, the accompaniments of coleslaw, ketchup, or mustard sauce make it taste the finest.
When was it Invented?
The invention of corn dogs occurred between 1920 and 1940, yet their precise history is unknown. In states like Texas, Minnesota, Illinois, and California, as well as other locations, numerous sellers have asserted that they created the corn dog.
According to several sources, Carl and Neil Fletcher were the recognized inventors at the 1942 Texas State Fair. There is disagreement, though, because Pronto Pup purveyors assert that the corn dog was invented in 1941 during the Minnesota State Fair.
According to legend, the stick was added to corn dogs in the late 1940s to make them easier to bite after they were baked without one.
Corn dogs have become a well-liked proper meal due to their low cost and simplicity of preparation. Corn dogs can be regarded as gourmet fare when served with premium sausage and only batter despite frequently being associated with meals produced from inexpensive materials.
Yellow mustard is frequently used to eat corn dogs, but it can also be served with relish, sauerkraut, pickles, ketchup, or mayonnaise.
How to Make Corn Dogs?
Always use your preferred hot dog brand to ensure your family enjoys the most outstanding flavor. In no time, the family will start to love these corn dogs! The recipe card below includes all the necessary measurements for making homemade corn dogs.
Steps to Make
Here are the steps to follow:
Heat Oil: Heat about 2 inches of oil in a large pot or dutch oven to 350 degrees.
Hot Dog Prep: Prep your hot dogs by patting them dry with paper towels and inserting the sticks. Set aside.
Cornmeal batter: In a large bowl, whisk the flour, cornmeal, salt, sugar, and baking powder together. Whisk the egg, honey, buttermilk, and milk together in another bowl or large liquid measuring cup. Add the wet ingredients to the dry and combine thoroughly. The batter will be thick but smooth enough to coat the hot dog once it has been dipped evenly.
Dunk it: Fill a tall drinking glass with batter. Dip the hot dogs in the mirror, going straight down and giving them a twirl in the glass. As you remove the hot dog, twirl it around to avoid leaving any air bubbles. If you see any bubbles or bare spots on the hot dog, dip it again.
Fry: Gently drop the battered hot dog into the hot oil. Cook for about 2-3 minutes, until nice and golden brown on all sides. Remove from the oil and allow to drain on paper towels. Serve immediately.
Homemade Corn Dog Tips and Tricks
Once you sample them, you'll see why corn dogs are a family favorite. Making homemade corn dogs will be a breeze with these pointers and techniques.
What to Serve with the Best Corn Dog Recipe?
There is a lot of disagreement and strong opinions among corn dog eaters. Which condiment do you prefer, ketchup or mustard? Even among family and friends, it can become quite a contentious subject. Depending on your preference, these handmade corn dogs are great with tangier mustard or sweeter ketchup. Serve these recipes with them for a delicious anytime supper and for different sides and entertainment:
How to Store Corn Dog?
If you are lucky enough to have leftovers, they keep well and warm up beautifully.
Note: the oil will take on the taste of what was cooked in it, but only slightly. It is best to fry similar items in the same oil. Once done with the oil, do not pour it down the drain, which will ruin your pipes and is terrible for the environment. Place the used oil in a container with a lid and throw it away.
Conclusion
You can make your homemade corn dogs that are far superior to those at the fair in less than 15 minutes! Hot dogs will be dipped in a delectable corn dog batter made from cornmeal and buttermilk, then quickly fried to crisp the exterior. Eat it alone or dunk it in your preferred sauce.
But I might like these corn dogs most. Corn dogs are actually about that batter because it has the ideal amount of scrumptious cornbread batter around the outside. I've been gleefully gnawing the extra bit of batter off the bottom of the stick since I was a child because it's the most significant part.
After the corn dogs have been fried, allow them to cool to room temperature before putting them in a bag or container for freezing. Corn dogs can be frozen for the finest quality for one to two months.