Schnitzel is a dish for everyone. It's a thinly pounded, breaded, and fried cutlet. It's versatile, can be made with almost any meat, and is simple to prepare. The Wiener Schnitzel, arguably Austria's national dish, is the most famous. It's made with thinly sliced veal and a distinctive undulating crust, and it's at least the size of a dinner plate. Only a spritz of lemon juice is required to complete the dish.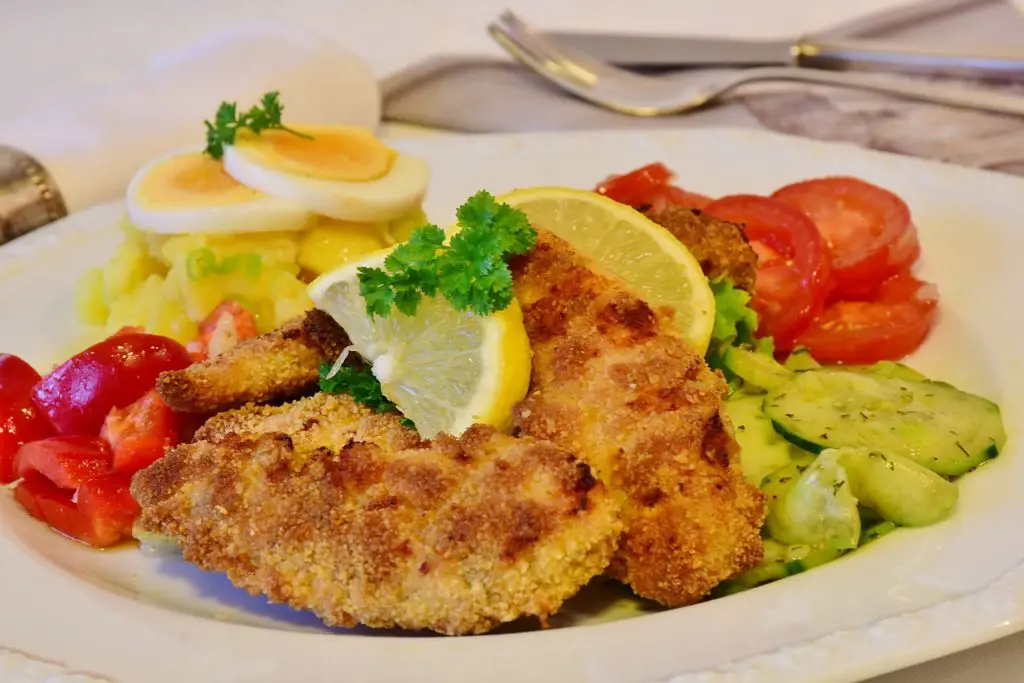 In its most basic form, Schnitzel is a thinly sliced piece of meat that is breaded and fried. The dish's name comes from the German word "Schnitt," which means "cut." The most common meats used in schnitzel are veal (wiener-schnitzel) and pork (schweine-schnitzel), but you can also find chicken (hänchen-schnitzel) and turkey (turkey-schnitzel) (puten-schnitzel). The breading is usually a simple flour, egg wash, and breadcrumbs mixture, and Schnitzel is typically not heavily seasoned. Add flavor instead of relying on bold toppings such as fresh lemon wedges, mushroom sauce, or cream sauce.
What is Exactly Schnitzel?
Schnitzel is a meat dish made with a thin boneless cutlet of veal, pork, beef, or chicken. The meat can be breaded and deep-fried, or it can be pan-fried and then used as bread, or it can just be eaten plain. Schnitzels are made in various ways around the world, but the basic recipe remains the same. The Wienerschnitzel, which originates in Austria, is the most famous Schnitzel. This dish is traditionally made with veal, breaded with breadcrumbs, and served with lemon juice.
What is the History of Schnitzel?
Schnitzel is a popular and delectable dish served all over Israel. Schnitzel originated in Austria, and the traditional meats were veal (known as Wiener Schnitzel) or pork. Fried schnitzel was later introduced to Israel by European Jews. Jews, like so many other foods, adapted this regional dish to fit their kosher laws. Chicken and turkey were substituted for pork (treif) and veal (expensive and difficult to come by).
Today, most Israeli restaurants serve some variation of poultry schnitzel. Fresh lemon juice is traditionally served with Schnitzel. Surprisingly, the origins of this culinary tradition are less than savory. Lemon juice was used to mask the flavor of spoiled meat before refrigeration. We still serve Schnitzel with lemon slices because the squeeze of lemon juice stuck.
Schnitzel Throughout the Times
Schnitzel has managed to conquer the taste buds of many people worldwide, and you can easily find this dish in most European restaurants nowadays. As far as the origins of Schnitzel go, many sources dating back in time mention the process of tenderizing pieces of meat by pounding out the slices. The process would then continue with the meat being dredged in breading and then fried. This cooking method dated as far back as the 1st century BC and was mainly done in Europe.
When you fast forward to the Middle Ages, Schnitzel had managed to become extremely popular by then. Not only was it well-loved in Germanic lands but also Northern Italy and present-day Austria. An important fact to note is that the main meat used was veal – also known as Wienerschnitzel. In the 1850s, many Germans immigrated to Texas. The beef was more widely available than veal or pork, so German immigrants began incorporating beef in their schnitzels rather than pork or veal. Since beef was not as tender as pork or veal, pounding beef became the new norm when making Schnitzel.
How to Make Schnitzel?
As previously stated, Schnitzel can be made with chicken, pork, beef, or veal, but the best chicken schnitzel recipe is:
Ingredients
For the Schnitzel
For the Coleslaw
300g white cabbage, shredded
One large carrot, peeled and grated
Six spring onions, sliced diagonally
One red-skinned apple, grated
150g pot natural yogurt
juice ½ lemon
2 tsp English mustard
Steps to Follow
Here are the steps to follow:
In a large mixing bowl, have your child combine all of the ingredients for the coleslaw. Season with salt and pepper and set aside.
Place the chicken fillets on top of cling film on your work surface. Cover with another cling film and ask your child to bash the chicken with a rolling pin until it is 2-3mm thick.
Season the flour with salt and pepper, then place the egg on another plate. Allow your child to coat the chicken in flour before dipping it into the egg.
In a shallow bowl, combine the breadcrumbs and Parmesan, then ask your child to toss the chicken in the mixture to coat it in the crumbs completely. If you're not going to cook the chicken right away, place it on a plate and chill until ready to eat.
Cook the chicken schnitzels two at a time in a large frying pan over moderately high heat. Cook for 2-3 minutes on each side until golden brown, then remove to kitchen paper to drain. Keep them warm in a low oven while you finish the rest of the meal. Serve alongside coleslaw.
What to Serve with Schnitzel?
Here are some of  the best side dishes to serve with Schnitzel:
Lettuce Salad
This lettuce salad with sour cream dressing is just one of many simple salad dressings and vinaigrettes that can be used to dress a traditional green salad. Our favorite Northern cucumber salad is made with one of these dressings. Drizzled over a simple lettuce salad, it's delicious. It may be straightforward, but that's not necessarily a bad thing in the kitchen!
Southern Potato Salad
In Southern Germany, warm potato salad is a popular dish! Warm salad isn't always a bad thing, as you'll discover when trying this fantastic recipe. It's nothing like the creamy potato salad from the north, always served cold! Both salads give me a warm and fuzzy feeling. Because Schnitzel is such a well-known comfort food, why not serve it with either of these sides? It's an ideal match, and you'll enjoy it!
Tomato Salad
Tomato salad is a delectable treat. It's one of those salads that go well with just about anything and don't even get me started on the color. In a bowl, it looks like summer! Scooping the salad onto tortilla chips can be used as a salsa, and it's a very adaptable recipe. The fresh juiciness of the tomatoes and the kick of flavor from the balsamic vinegar are unbeatable.
Mashed Potatoes
Another great potato side is plain mashed potatoes. Simple mashed potatoes with milk, butter, salt, and pepper. Simple, traditional, and delectable! Mashed potatoes are a great side dish to serve with almost anything! For an extra kick, add some roasted garlic.
French Fries
Try making your french fries in an air fryer if you have one. If yours has one, I will do it with the rotisserie basket. Making them in the air fryer can faster help you get dinner on the table. Throw some fries in the basket while your Schnitzel is frying, and they'll be ready in no time!
How Schnitzel Became Beloved by Jewish People?
Originally brought to Israel by Ashkenazi Jews from Europe, the Schnitzel was an instant hit. Because veal was scarce in the early years of the state of Israel, chicken or turkey was substituted. To keep it kosher, the meat used nowadays is usually chicken or turkey breast. Another kashrut-compliant substitution was butter for oil, typically used in Wienerschnitzel. The Schnitzel is coated in a mixture of beaten eggs and bread crumbs before being fried and is sometimes spiced with paprika or sesame seeds. Even though Schnitzel is not exclusively Jewish cuisine, it is still popular in Israeli cuisine.
Conclusion
Schnitzel is a popular dish in traditional German and Austrian cuisine, and it's popular comfort food with a long history. Schnitzel is a cutlet made traditionally from veal, but it can also be made from beef, chicken, or pork. To achieve an even thickness throughout the piece of meat, a meat tenderizer or something heavy is used to thin it out. After that, they're dusted with flour, egg, and bread crumbs.
Although veal is the traditional meat for Schnitzel, it can also be made with beef or chicken. Because fat tends to splatter when frying, it's good to skin the meat before pounding it out. Then comes the frying; if not deep-fried, pan-fried in oil and served with a lemon wedge and a sauce such as mushroom, lemon, or, to make it Austrian, a clear gravy made from the pan juices known as 'Fritz.' Schnitzel is usually served with a side salad and potatoes or rice. It's also delicious with pasta or pizza.