This Slow-Cooked Italian Chicken recipe is one of our favorites because it's tasty and because it's so flexible. You can serve the meal with sides, shred the chicken, cool it, and use it in chicken salad, garden green salads, and various other recipes that call for cooked chicken. This meal is also great served with rice or egg noodles. This Crockpot Italian Chicken recipe should be in everyone's repertoire, but you must add it to yours if it isn't. Slow-Cooked Italian Chicken is a delectable dish ideal for days when you don't have time to cook.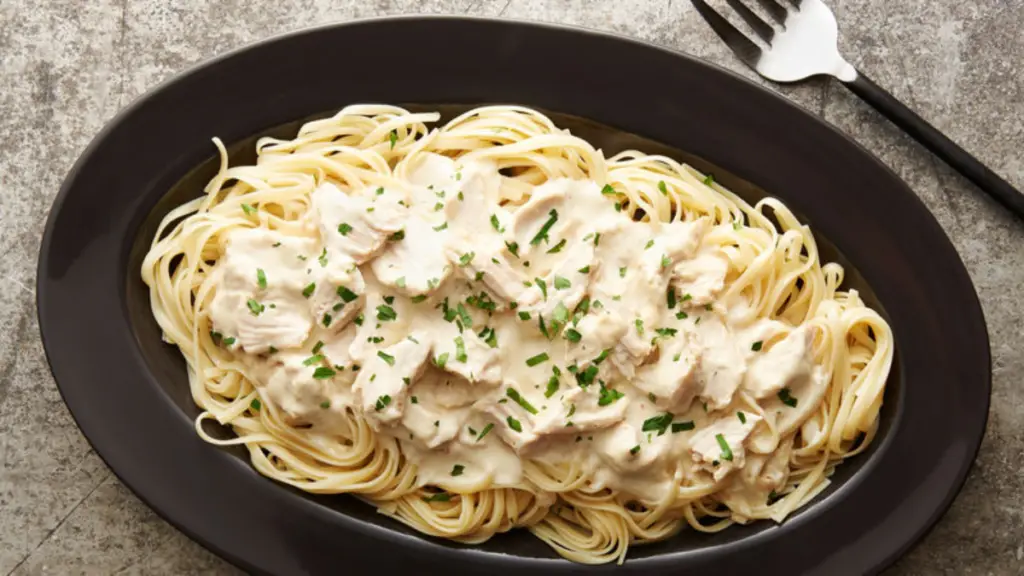 How to Make Slow-Cooked Italian Chicken?
Pour the cream of chicken soup over the chicken in an Instant Pot. On top, sprinkle the dry Italian dressing mix. Pour in chicken broth and top with cream cheese. Ensure the lid is locked and the knob is turned to the sealing position.
Cook for 15 minutes on a manual, poultry, or meat setting. Allow for a natural or rapid release in the Instant Pot. Remove the chicken from the oven and shred it with two forks or a mixer. Mix the sauce until the cream cheese is entirely incorporated in the crockpot, then add the chicken.
If the sauce is too thick, add more chicken broth or milk to thin it out to your desired consistency. Serve over rice or spaghetti.
In a pot with some olive oil, cook the chicken until it is no longer pink. Remove the meat from the pot and shred it with two forks or a food processor.
Heat the cream of chicken soup, Italian dressing, and cream cheese together in a pot over medium heat until smooth. To achieve the correct consistency, add milk or chicken broth. Add the shredded chicken and mix well.
Try this chicken recipe when you're sick of the same old dishes. It only takes a few minutes to put this together, and it yields a delicious dinner.
I usually think of adding hamburger or leaving it pure in pasta sauce. On the other hand, the tomato basil sauce is ideal for chicken.
Add some sun-dried tomatoes, red bell pepper, and a sprinkle of salt to amp up the flavor even further. Serve as a main dish over pasta with vegetable sides.
The Crock-Pot makes it simple if you're craving a delicious pulled chicken sandwich. You've got to enjoy a good dump-and-go meal, and today's 5 Ingredient Slow Cooker Italian Chicken is just that.
Dinner was chicken sandwiches, fruit, and chips for the kids and me, with enough chicken left over for lunch the next day! Note:
This recipe calls for Chicago-style giardiniera, which I found at my local ALDI. The hot version was somewhat spicy, but the light version has a wonderful flavor without the heat: Pick your poison.
To balance out the flavors, I recommend serving your Italian pulled chicken on French buns with a piece of light cheese. (If you're watching your carbs, make a bowl and top it with melted mozzarella.)
You might be wondering what to do with the remaining half of your giardiniera jar and broth box. So, here's what I'm going to tell you! Try this 30-minute beef and cabbage stir fry with giardiniera for a pleasantly distinctive dinner. A single savory ingredient, giardiniera, makes all the difference in these dishes.
Ingredients
2 pound boneless and skinless chicken breasts (about 4-5 breasts)
Two packets of salad dressing (Italian) Good Seasons Italian salad dressing were utilized.
4 quarts water
Instructions
Heat the oil over medium-high heat in a large frying pan or flameproof casserole pan. Cook the combined chicken in two batches for 5 minutes or until golden brown, flipping regularly. Place on a plate to cool.
Toss in the onion and mix capsicum in the pan. Cook for 5 minutes, stirring occasionally, or until onion softens. Cook, constantly stirring, for 1 minute or until the garlic, anchovy, and oregano is fragrant. Return the chicken to the pan and add the wine. Bring the water to a boil.
Fill a slow cooker halfway with the chicken mixture. Combine the tomato, stock, and olives in a mixing bowl. Cover and cook on high for 3 hours (or low for 6 hours), or until the chicken is practically falling off the bone and the sauce has thickened somewhat. Season.
In the bottom of the crockpot, place the chicken.
Combine the packets and water, then pour over the chicken.
Cook for 6 hours on low (or until chicken is done), then shred the chicken. Allow cooking for another hour.
After shredding the chicken, combine about a cup of the juices with two tablespoons of cornstarch if desired. Return to the crockpot, whisk, and set aside to thicken into a delicious gravy.
Serve with mashed potatoes as a side dish.
How Long Should Chicken be Slow-Cooked?
Cooking a chicken in the slow cooker on high heat takes 3-4 hours, and cooking on low heat takes 8 hours. Cook the chicken breast-side up on high for 4 to 5 hours or low for 6 to 8 hours. When the thickest chicken breast and thigh section is pierced with a knife, the juices should stream clear. Before cutting, let the chicken rest for about 20 minutes. Cook for 2-3 hours on LOW or 1-2 hours on HIGH. Because bone-in chicken is less prone to dry out than boneless chicken, you can cook it on high. Using a medium bone-in chicken breast weighing 11 ounces as a base.
If your chicken piece is smaller or larger, make sure to adjust the cooking time accordingly. Yes, it's conceivable! If the meat is cooked for too long, it may become dry and unappealing rather than juicy and soft. My recipe's recommended timeframes are perfect for juicy results, but you could check it sooner if you use less chicken than the recipe calls for.
Is it Better to Pressure Cook or Slow Cook Chicken?
Well, that depends entirely on the dish you're preparing. The Instant Pot cooks chicken faster than non-pressure cookers, but the texture won't be the same as what you'd get from a slow cooker or a Dutch oven. Because the long, low-temperature cooking method is wonderful for adding moisture and breaking down fat, slow cookers are considerably better for preparing root vegetables and tough cuts of meat. Leaner meats should not be cooked in a slow cooker, but they can be easily cooked in a pressure cooker.
The Instant Pot performs better while cooking meat for longer periods. It would help if you let the pressure naturally release with other meats, but I've found that fast releasing the pressure results in juicier chicken breasts. And this is what I discovered. Your meat will become extremely tender due to the pressure, almost as if it had been slow-cooked for several hours.
How Long Should Italian Chicken be Baked?
Preheat the oven to 350°F (180°C) (175 degrees C). Remove the chicken from the marinade and set it in a 9×13-inch baking dish that has been gently oiled; discard the leftover marinade. Bake for about 1 hour, flipping chicken regularly until cooked through and juices run clear. Preheat the oven to 350 degrees Fahrenheit. Spray a 9-by-13-inch baking pan with nonstick spray and transfer the chicken to it. Bake for 1 hour or until the internal temperature reaches 165 degrees Fahrenheit. Enjoy with a side dish and a veggie.
Thaw frozen chicken slowly in the refrigerator or quickly in cold tap water by placing it in a leak-proof packaging or plastic bag. Preheat the oven to 350°F (177°C) and bake a 4-ounce chicken breast for 25 to 30 minutes. Check the internal temperature of the meat using a meat thermometer to ensure it is 165°F (74°C).In a 400-degree oven, a medium-size chicken breast (5 to 6 ounces per) takes around 20 to 25 minutes to roast. I always bake chicken breasts at 400°F since the high temperature helps seal in the fluids (and the flavor).
How do you Prepare Italian Chicken with a Kick?
Heat the olive oil in a large skillet over medium-high heat. Season the chicken with salt, pepper, and Italian dry seasoning. Sear the chicken for 4-5 minutes on each side, or until it is golden brown and cooked through. The inside temperature should be 165 degrees Fahrenheit. Your chicken cacciatore can be eaten over rice, with roasted or mashed potatoes, or over your favorite noodles! You can also serve your entrée with a side of cheesy garlic bread and parmesan garlic roasted potatoes. Heat a tablespoon of olive oil in your frying pan instead of vegetable or canola oils.
Remove the chicken from the marinade, cut it into bite-size pieces, and cook it in the pan. Cover your chicken with the cover and fry until browned at a medium temperature. You'll have to stir quite a bit. Seasoned chicken breasts are marinated in an Italian salad dressing before being sautéed. A ferociously simple and excellent recipe may be made with only four ingredients! Allow 5-6 hours for the optimum flavor and texture; if you don't have that much time, even 10 minutes of marinating will give the outside of the chicken flavor. Marinades without acid can be left for extended periods, but this will not improve their performance, so keep to a maximum of 24 hours.
What's the Best Way to Thaw Chicken?
Take the chicken out of the freezer at least 24 hours before you plan to cook it. Please put it in a ziplock bag or a container with a lid. Place it on a low shelf in the refrigerator and leave it there until it has completely defrosted. The cooking time is 1–2 days. So, to begin, we'll place the frozen chicken in a microwave-safe dish or plate. Microwave it for a few minutes. Please set it to defrost according to the chicken's weight. The USDA always thaws frozen chicken in the refrigerator, microwave, or sealed bag soaked in cold water.
Chicken should always be cooked as soon as it has thawed. Bacteria are more likely to grow on raw meat between 40 degrees Fahrenheit (4 degrees Celsius) and 140 degrees Fahrenheit (60 degrees Celsius). Submerging frozen chicken in cold water is the fastest way to defrost it, and this approach takes 30 minutes per 2 pounds of beef and is your best hope for keeping bacteria at bay. Allowing frozen poultry to rest in your refrigerator overnight is the finest and safest way to thaw it.
Conclusion
This dish is so simple. Throw the ingredients and go, but it's also low in fat, making it ideal for anyone on a Weight Watchers or Slimming World plan. So, returning to the original post and noting that the view of chicken thighs is still a work in progress, she's now a vegetarian. The writing was on the wall. The longer you own a piece of equipment, the better you understand it, and my slow cooker is no exception.c This is the second most requested meal after my favorite Baked Ziti. I call it "pasta" since I normally serve it with bowtie spaghetti, and I prefer it with rice, but it's also delicious with pasta. It's extremely simple…the perfect Sunday dinner to throw in the crockpot while you're at church.